Big Potential
HOW TRANSFORMING THE PURSUIT OF SUCCESS RAISES OUR ACHIEVEMENT, HAPPINESS AND WELL-BEING
SHAWN ACHOR
We have long thought about potential as being a set of individual traits: your creativity, your skills your intelligence.
But thanks to exciting new research combining neuroscience and psychology with Big Data, we now know that our potential is not limited by what we alone can achieve. Instead, it is determined by how we complement, contribute to, and benefit from the abilities and achievements of people around us.
When we – as individuals, leaders, and parents – chase only individual achievement, we leave vast sources of potential untapped. But once we put "others" back into the equation, and work to make others better, we ignite a Virtuous Cycle of cascading successes that amplify our own.
The dramatic shifts in how we approach work today demand an equally dramatic shift in our approach to success.
Here, Achor offers a new path. Drawing on cutting-edge original research, as well as his work with nearly half of the Fortune 100 and with places like NASA, the NFL and the NBA, he walks us through five actionable steps towards achieving our Big Potential to thrive in the modern world.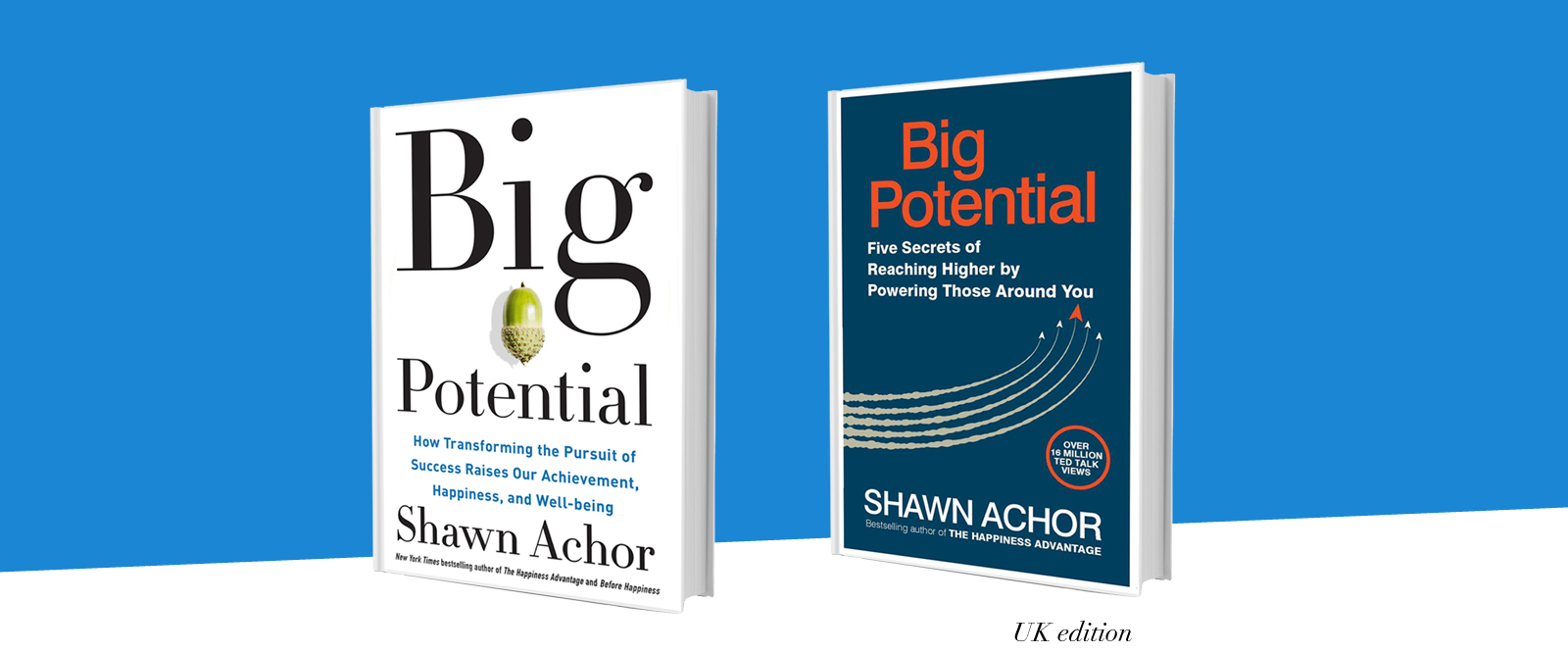 After spending twelve years at Harvard University, Shawn Achor has become one of the world's leading experts on the connection between happiness and success. His research on happiness made the cover of Harvard Business Review, his TED talk is one of the most popular of all time with over 13 million views, and his lecture airing on PBS has been seen by millions. Shawn has worked with over a third of the Fortune 100 companies, and lectured in more than 50 countries speaking to CEOs in China, senior leaders at the Pentagon, schoolchildren in South Africa, and farmers in Zimbabwe. His Happiness Advantage training is the largest and most successful positive psychology corporate training program to date in the world.
Shawn is the author of New York Times best-selling books The Happiness Advantage (2010) and Before Happiness (2013), as well as Ripple's Effect and The Orange Frog. Shawn was published in the top psychology journal last year for the work he did at UBS in partnership with Yale University to create a more effective stress training. And he recently did a two-hour interview with Oprah at her house discussing happiness research and perception of success.